Abu Dhabi accident lawyers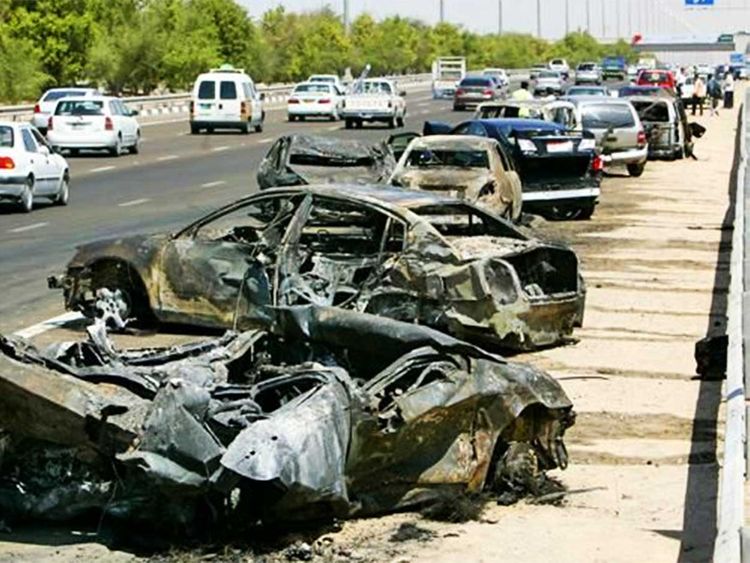 Our Dubai, Abu Dhabi accident lawyers and personal injury attorneys at Al Saaedi & AL-Menhali, the accident specialist law firm, have a long experience of + 4 decades of in all kinds of accidents across the UAE.
Al-Saaedi law firm in Abu Dhabi and Dubai has the best accident lawyers who deal carefully with injury and accident claims.
Furthermore, Our team consists of the best legal consultants and elite attorneys & lawyers;
; They professionally handle cases related to all personal injuries and accident forms and could help clients proceed with their accidents and injury claims. In some claims, we could get over 2 Million as compensation from the supreme court. Because Our attorneys are experts and have in-depth knowledge of handling this type of case. 
Our Abu Dhabi, Dubai skilled accident and personal injury lawyers and attorneys help businesses and individuals to the compensation they deserve.
Injury Accidents compensation claims in Abu Dhabi and Dubai have a unique team of the best lawyers in the UAE.
Our firm is a Personal Injury accident compensation claims law firm.
As a result, the firm represents any car, and other motor vehicle accidents, boats, and other accidents slip, etc.
Both Al Saaedi Dubai and Abu Dhabi offices have no win, no fee policy in accidents & personal injury court cases,
In truth, Our advocates are proud of their reputation for being caring and considerate in dealings with personal injury clients;
Furthermore, our specialist accident and injury lawyers are training to go the extra mile to ensure all decisions in the claims process are in the client's best interests.
Al Saaedi, an accident and injury lawyer, ensures that all services reflect a professional attitude across the Personal Injury Services Department.
You can rest assured of high-quality representation in your personal injury claim at all levels;
Starting from our administration staff to our highly experienced personal injury lawyers.
Our lawyers are accepting all accidents in all areas, but that's an example of accidents claims we handle: –
Is it reasonable to consult with Our expert accident attorney when property damage, injury, and wrongful death occur? 
Indeed, our accidents and injury Law Offices in Abu Dhabi or Dubai will help.
Of course, We handle cases of victims residing outside the UAE regularly.
To illustrate more;
https://www.moj.gov.ae/
best law firm in Abu Dhabi
best practice law firm
Our clients are from worldwide, whether from Europe or beyond (UK, United States, Canada, Australia, New Zealand, Pakistan, Sri Lanka, the Middle East, and all Arab countries rely on our expertise.
Generally speaking, we will have the victim come to UAE to be medically assessed at some stage and up to UAE courts. 
We do our best to do all our legal frameworks seamlessly with less stress.
For instance, we cover the following accident areas; Road Traffic Accidents.
If you suffered from the following accidents, call to arrange a visit.
Employees Injured at Work.
Industrial Disease Claims
Faulty Product Claims.
Factory Workers Injured at Work
Criminal Injury.
Compensation Claims.
Construction Industry.
Accident Claims.
Accidents at Work.
Brain and Spinal Injury Claims.
Back Injury
Compensation Claims
Sexual and Physical Abuse Claims
Serious Injury
Rehabilitation Professional Drivers Injured at Work
Accidents Involving Children
Motorcycle Accident Claims
Road accidents, car accidents.
Our expert personal injury solicitors have decades of experience advising people and families on compensation claims for accidental injuries and illness.
Our expert personal injury lawyers in Abu Dhabi have decades of experience advising people and families on compensation claims for accidental injuries and illness.
Abu Dhabi Accident Lawyers are not only the best personal injury law firm because of their professional expertise and proven performance but also because of their understanding and sympathy with clients.
To illustrate more;
https://www.hg.org/attorney/ahmed-salem-al-saedi-advocates-and-legal-consultants/123456
More
http://abudhabi-lawyers.com/about-us