Construction Lawyers in Abu Dhabi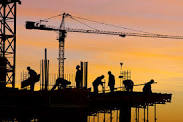 Our Construction Lawyers in Abu Dhabi at Menhali & AL_Saaedi are a top-tier construction team who provides construction law and risk management advice and court representation concerning all aspects of domestic projects and international construction phases.
For Instance, We provide all the legal services required to deliver a construction project, from drafting and reviewing contracts to the handover.
Furthermore, Our Construction Lawyers in Abu Dhabi have accumulated extensive experience in contentious construction disputes for decades. Drafting and negotiating contracts for the development, design, construction, ownership, operation, maintenance, insurance, assignment, and transfer of construction contracts.
Our Construction Lawyers in Abu Dhabi Will help if you are engaging in a constructions deal,
Hence, our legal construction team will significantly help with property & construction concerns like legal contracts.
Above All, Our Construction Lawyers in Abu Dhabi are The winners of the international dispute 120 Million;
In a dispute with a foreign company outside the UAE, we won a construction dispute over unpaid AED 120000000 Million, and the supreme court upheld the ruling. 
Al Saaedi -Abu Dhabi construction lawyers deal with all legal issues regarding the construction process, and if you need, we escalate it to arbitration or litigation.
In brief, we deal in all aspects, from acquiring land and financing a project to post-construction dispute resolution.
Therefore, our construction lawyers in Abu Dhabi, Dubai deal with a broad scope of matters, such as building contracts, construction, and builders' liens,
Moreover, tendering, construction claims, bonds, and sureties pertain to all parties in the construction industry;
including; architects, subcontractors, general contractors, material suppliers, builders, designers, developers,
furthermore, planners, engineers, and financial institutions.
For example, our construction lawyers deal with infrastructure, housing, planning permissions, and construction and engineering.
Our Construction Lawyers in Abu Dhabi can do a lot for clients:-
Our lawyer's work involves negotiating contracts and general procurement before construction begins.
As a result, our Construction lawyers work with the people who are initiating the project,
And the people financing it, the architects, and the construction companies.
On the other hand, Our Construction lawyers deal with contentiousness when something goes wrong.
Because the contracts we draft and negotiate at the procurement stage set out how to deal with disputes.
So, Our Construction Lawyers in Abu Dhabi minimize costs, are usually Resolve disputes through;
Firstly, negotiation and reconciliation.
Secondly,  adjudication or arbitration,
Third, if a case goes to court,
hence, our specialist construction lawyers practice in all courts and arbitration panels,
To illustrate more;